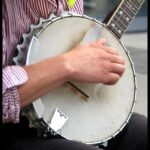 Sunday September 10 4—6 pm
Savor a late summer afternoon on our terraced lawn overlooking the Thames River.
Explore the historic house museum and see what was the very latest in household technology a hundred years ago.
Delicious hors d'oeuvres and cooling refreshments will be served.
Celebrate the end of summer with some traditional banjo music by Jamie Sherwood.